Archive for October 30th, 2007
The end of the Evil Empire, as we know it. That is so gay.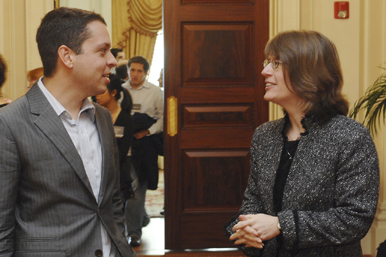 Markos Moulitsas (LAW'99) talks with Maureen O'Rourke, dean of the School of Law, at the conference New Media and the Marketplace of Ideas. Photo by Vernon Doucette
[From an interesting interview with Markos Moulitsas of the Daily Kos published today in the BU newspaper web site]
Do you think the Republicans will eventually pick up on the Internet as a fundraising and campaigning tool?
They never really needed it before. They've been very good at getting small donations in the past via direct mail. Now direct mail has become obsolete. The people who fill out a check are old and dying off, and my generation — well, I can't imagine being caught dead writing a check.