The bus ride to New York, which normally takes four hours and change, takes seven with traffic. My friend A had booked dinner the week before and was afraid we might miss our reservation, but we finally arrive in Chinatown with time to spare. I change shirts on the subway (much to A's disbelief) and my pants at a nearby Starbucks. We then meet up with K, A's boyfriend, and head over to Chez Josephine, the first stop on our Restaurant Week splurge; it's A and K's belated birthday treat to me.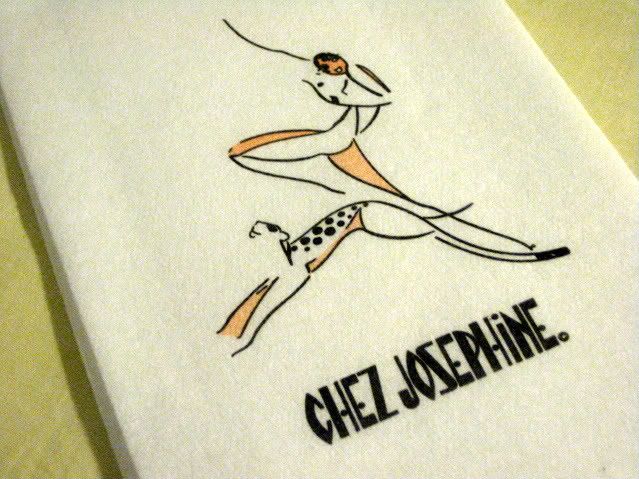 Chez Josephine is a swank looking bistro dedicated to the Americaine in Paris who became famous for her dancing career in the twenties and thirties. The first thing we hear upon entering is the pianist who's actually quite good and has a voice perfect for crooning standards. Sadly, the entertainment impresses more than the food. We all order menu items prix fixe. While the beet salad is a delightful starter with a nice play of textures, my roast chicken is overcooked and my lemon crème brulée just par. Nonetheless, I enjoy the ambiance and whole experience and wish I hadn't left my camera in the car. At night, the decor of turquoise walls and chandeliers in tangerine really jazzes up the space.
As a continuation of this French theme, we catch the matinée of Boeing Boeing the next day all thanks to A. It is this year's Tony winner for Best Play Revival and deservedly so. The cast is amazing and the story happens to speak to my research concerning the emergence of aesthetic and political internationalism (because even on holiday, I'm thinking about school).
Boeing Boeing, by Marc Camoletti, takes off from the advent of passenger aircraft during the 1960s. In this period farce, faster engines have made it possible to boink multiple "air hostesses" from different airlines so long as their paths never cross. As Bernard (Bradley Whitford), the architect of this diplomatic venture, explains:
Pure mathematics, everything organized, regulated, and working to the precise second. The earth turns on its axis and my three fiancées wheel above the earth. One this way. One that. One towards the sun. One towards the moon. And eventually, they all come in home to me. No alarms. No surprises. It's geometric my dear Robert, so exact as to be almost poetic. And here I sit in the middle the typical example of polygamous despotism.
The center of the universe is a beautiful standing set featuring seven doors (making for plenty of opportunities to hide and appear) and furnished with period pieces such as Barcelona chairs and a glass desk. Rose, lemon, and cerulean accents —they rhyme with the air hostess uniforms—recall the pastel realms of French New Wave filmmaker Jacques Demy (cf. Les Demoiselles de Rochefort), while the modernist counterpoint between squares and circles is a fitting correlate for the sexual antics on stage.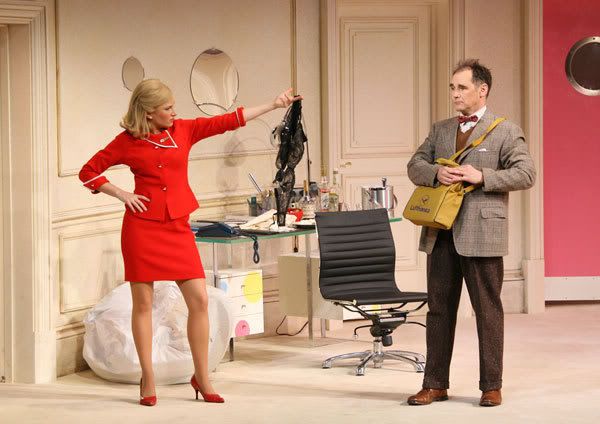 Everything runs like clockwork until the planes outrun Bernard's timetables. We watch in anticipation of the inevitable collision as Bernard, Robert, and Berthe (the maid) struggle to keep the fiancées from finding out about each other. The three fiancées Gloria (Kathyrn Hahn), Gabriela (Gina Gershon), and Gretchen (Mary McCormack)—alliteration is insurance against memory lapse—are coruscating caricatures of Americans (worshippers of kink, ketchup, and money), Italians (the best-dressed sentimentalists), and Germans (hardcore taskmasters), respectively. And while their accents are stiltedly stereotypical, they execute them with so much élan and physicality that you are too busy laughing to care. The one actor who manages to pull off the foreign accent is Mark Rylance as Robert. The Brit, who won this years Tony for Best Actor, is hilariously on point as the bashful businessmen from Wisconsin turned horndog à la Bernard. Christine Baranski's French is atrocious, but her Berthe scores points for the crabbiness befitting a soubrette.
Though Boeing Boeing is very much a period piece (when was the last time you received a telegram?), the stunning cast and delicious plot makes for world class entertainment.
July 26th, 2008