February 7th, 2008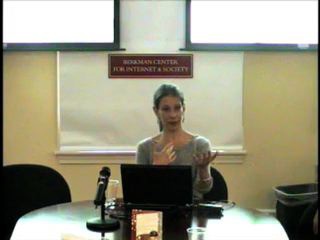 Download the MP3 (time: 1:13:05)
Judith Donath, Associate Professor at the MIT Media Lab and director of its Sociable Media research group, was the guest speaker this week at the Berkman Center's Luncheon Series.
Donath's presentation was titled "Designing Society". In it, she presents several design projects from the Sociable Media Group. Some are visualizations of online interactions, which reveal important but hard to perceive social patterns. Others are experimental mediated social spaces, where the goal is to balance legibility with innovative computational capabilities.
The focus will be to show how design affects identity, reputation and trust – the foundations of society.
Runtime: 1:15:56, size: 320×240, 209MB, .MOV, H.264 codec
Entry Filed under: audio,Berkman Center,Berkman Luncheon Series