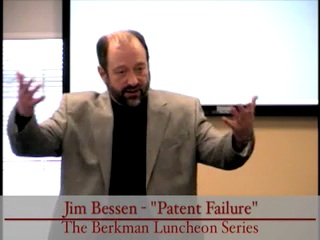 Download the MP3 (time: 56:14)
Jim Bessen, Lecturer of Law at Boston University Law School, was the guest speaker this week at the Berkman Center's Luncheon Series.
Bessen's presentation is titled "Patent Failure". Bessen analyzes a broad range of evidence on the economic performance of the patent system. He finds that patents provide strong incentives for firms in a few industries, but for most firms today, patents actually discourage innovation because they fail to perform as well-defined property rights. This analysis provides a guide to policy reform.
Runtime: 56:14, size: 320×240, 165.4MB, .MOV, H.264 codec