March 16th, 2010
From pervasive doubtable usage of copyright works in Chinese web-sphere to Google's latest dilemma in China, it seems the Internet as an open, universal and single network is still an "ought to" imagination but not a truth.
Donnie Dong (Hao Dong) – a Fellow at the Berkman Center and a Fulbright Junior Scholar – presents new developments about China's IP (Intellectual Property), IG (Internet Governance) and IB (Internet Business), and discusses a possible new perspective from which to observe the Internet: Cyber-pluralism.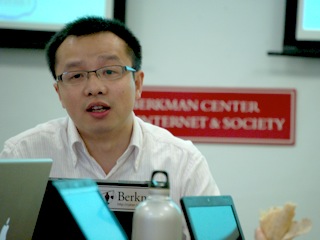 Click Above for Video
…or download the OGG video format!
Entry Filed under: Berkman Center,video