September 21st, 2011
Although we email, blog, tweet, and text as if by instinct, too many of us toil in schools and workplaces designed for the last century, not the one in which we live. Using cutting-edge research on the brain and learning Cathy N. Davidson — former Vice Provost for Interdisciplinary Studies at Duke University and co-founder of HASTAC (Humanities, Arts, Science, and Technology Advanced Collaboratory) — shows how the phenomenon of "attention blindness" shapes our lives, and how it has led to one of the greatest problems of our historical moment, and suggests ways we can take control, based on her book Now You See It: How the Brain Science of Attention Will Transform the Way We Live, Work, and Learn.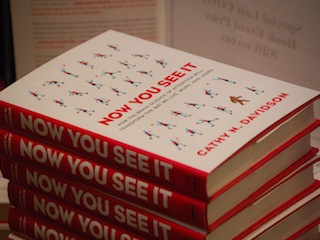 Click Above for Video
…or download the OGG video format!
More info on this event here
Entry Filed under: video