October 11th, 2011
Why did Wikipedia succeed in attracting contributors while other projects did so less effectively? Why are some attempts at online collective action successful while most never take off? In this talk Benjamin Mako Hill — a researcher and PhD Candidate in a joint program between the MIT Sloan School of Management and the MIT Media Lab, a fellow at the Berkman Center for Internet and Society, and a Research Fellow at the MIT Center for Future Civic Media — presents preliminary findings from an analysis of 8 early projects to create online collaborative encyclopedias in the form of interviews of the projects' founders and extensive archival data.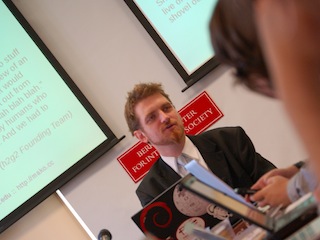 Click Above for Video
…or download the OGG video format!
More info on this event here
Entry Filed under: video