December 11th, 2012
Armed with little more than a modest smartphone (mostly even ordinary phones) and an Internet subscription that will permit only a fair access to the mobile GPRS/EDGE, Nigerian young people went into the 2011 elections with a new wave of enthusiasm and interest.
In light of the renewed hope and confidence, and the desire to get things right, several civil society organizations established election monitoring platforms via SMS, twitter, websites, blogs, facebook, telephone lines etc. One particular organization recruited volunteers and got itself embedded within the INEC systems to promote a "two-way communication between INEC and its stakeholders".
What evolved was a media-tracking centre established to assess the robust blend of traditional and new media during the election period. It was an interesting trend to see how social media, for the first time, was adopted and, quite interestingly, adapted, to ensure credibility of the electoral process.
During this presentation, Oluwaseun Odewale — a trained chemist with a combination of nine years local and international work experiences in social and development work in the West African sub-region, and Berkman Center Fellow — showcases the Nigeria experience, highlighting what worked and what didn't; specific instances of how social media interventions prevented rigging; how the elections has helped the growth of use of social media, the patterns of usage during and after the elections; and, how traditional media has adjusted to social media practice.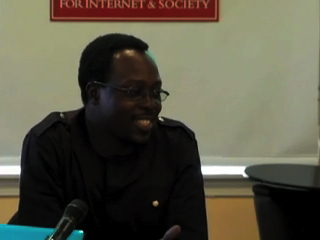 Also in ogg for download
More info on this event here.
Entry Filed under: video