ø
A fascinating afternoon yesterday at the Berkman Center talking about many dimensions of the intersections of gender and technology. Liana Leahy's posting links and other good info here, here are just some personal reactions:
Mainstreaming – I've been doing it for years! (who knew?) I learned that the stuff we've had to do for the past several years in the government grant-funded world is called "gender mainstreaming." It always caused groans among my ex-Soviet colleagues (female and male) – every grant application must explain how the project will address any gender equity/equality issues that exist and all statistics and reports have to be "gender disaggregated." Not very hard of course to note the M/F breakdown of a seminar, unless you're suddenly asked to do it retroactively for the several thousand participants in training and conferences. And at first it all seems silly, until you realize that you do find yourself paying more attention that you used to.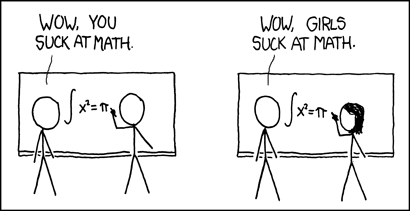 Equity is for other people – As a white, educated and wealthy (relative to the whole population, not to my Harvard class, keep those fundraising calls on hold, thanks) person who happens to be a woman, I find myself quite conflicted about what kinds of solutions I think are appropriate. I absolutely agree with the (male and female) Berkman fellows and staff who started this group that it would be so, so, so very much better if the 12 faculty directors of Berkman were not all men. I am disturbed that only 10 of the 33 current fellows (sorry Rosalie, having enjoyed being a "fellow," I don't find the male-ish term is a problem, in fact the opposite, I like "fellows," "guys" and "folks" as non-gender-determinate terms)  are female. But, do I think the reason Berkman didn't find a way to continue my fellowship after its original funding ended was because I was female? Of course not. Much as I would like to be still have that nifty "fellow" title, would I have wanted them to find a way to keep me on because I was female? Of course not; I would have been horrified and insulted. When I was juggling lists of folks to speak at my conference, was I annoyed every time someone (always male) suggested that it was a bad thing that an individual panel was all-male? Of course I was.
Overall, though, I came away agreeing (no surprise, because as we already know, he's always right) with David Weinberger: in fact, even when it's hard, we should do EVERYTHING, because it is simply depressing and stupid how long we've been worrying about this (not just at Berkman but in the world) and things are not changing fast enough. The fact that so many Berkman luminaries made time to join the conversation at some point (leading excellent guest speaker Prof. Seltzer to note that the crowd had impressive numbers of men in it) is heartening. So are the 1000+ members of the Berkman Gender and Technology Facebook group.
So, we are all looking forward to seeing Berkman use its unique position at the intersection of technology, law, academe and business  to take a lead in this. Some of the ways mentioned yesterday (but there are many more) were:
— more Berkman fellows researching how gender difference plays a role in the topics they're studying (perhaps the question "describe how you will consider gender differences in your research" will find its way into the fellows application? Perhaps they will recruit scholars who focus on gender issues? Perhaps both, and more?)
— existing Berkman research will make sure consideration of gender difference is included (Terry Fisher talked about this)
— hosting small, regular discussions on some of the separate issues
— maybe finding funding for something larger, like a conference?
— looking at how to address the faculty/fellows imbalance
and that's just the beginning.
Meanwhile, in the media field – female new media entrepreneurshave 11 days left to apply for seed funding from the good folks at McCormick and there's still time to register for Women, Action and Media, March 27-29 at MIT.