From J. Scott Carpenter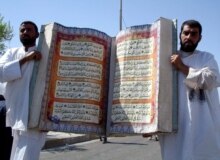 As early as this weekend, Geert Wilders, controversial Dutch politician and vocal critic of Islam, will release his new film, Fitna, on the internet. Fitna, which in Arabic means "dissension," promises to be even more inflammatory in Muslim-majority countries than the Danish cartoons that sparked riots in many capitals in 2006. According to Wilders, the 15-minute film will show that the Quran is "a fascist book" that "incites people to murder," and he promises something special at the end of the film: "Something will happen to [a picture of Muhammad] but I won't say what."
MESH Updater: See the MESH posting on the film and its reception by Josef Joffe, Fitna and the 'Euroweenies'. The film may be viewed here. And scroll down for J. Scott Carpenter's post-release assessment: "There is little newly controversial—or even wrong—here."
The State Department has been in routine discussion with the Dutch government about the film and was hoping that Wilders would be persuaded not to release it. He has resisted such entreaties and has said he is housing the server from which the film will be released "in North America" to prevent the Dutch government from shutting it down.
Even before its release, the film has caused a backlash, particularly in Egypt, where a government spokesman has already chastised "European lawmakers and politicians" for using "gratuitous methods to gain electoral votes by attacking" Islam. Shortly after that statement, the organizers of the International Film Festival for Children in Cairo boycotted the Dutch entry, Where is Winky's Horse? For good measure, they boycotted the Danish entries as well. In universities around Egypt, thousands of students have already joined protests—all in response to a yet-to-be-released film that no one has seen.
Whatever Wilders' ultimate motivation for releasing the film, he aims to tap into a deep ambivalence about the cultural drift taking place within Dutch and broader European society, and the fact that too few people are reflecting on what it means. Whether it's the Dutch foreign minister stating explicitly that Islamic culture will become part of Dutch culture, or the Archbishop of Canterbury stating that Sharia should be made part of British common law, there is the sense that European leaders are simply surrendering to political correctness without asking basic questions about what it is to be Dutch, British, European or—for that matter—Muslim.
At times, radicals on both sides of a question are needed to propel those in the center forward—to shake them from their lethargy and lift their heads from the sand. But almost all of the radicals, Wilders notwithstanding, have been on the Islamic side. Ever since 9/11, Western societies have responded to rising radicalism by doing all of the soul-searching, adjusting and accommodating. As a result, Western governments have sought ways to connect with the Muslim communities within our own societies and sought partnerships with them to solve shared problems in a shared way. On the whole, this has been a good thing.
Unfortunately, Muslim-majority governments, especially in the Arab world, have not responded in kind. Rather than become self-critical and recognize how they have helped radicalize their populations, governments have made the situation worse by steadily accentuating the role of Islam in politics while pretending in their narratives to be secular. The reason is simple: insecure in both their ideas and their legitimacy, they have sought to borrow both from Islam, hoping in this way to secure their flank against populist Islamists. It is not working.
Egypt is a case in point. Not until 1971 did the Egyptian constitution make the principles of Sharia a source of legislation for the legislature and government to consider. In all previous constitutions, amended or otherwise, going back to 1923, this phrase was absent. Later, under pressure that likely accompanied the signing of the Camp David Accords, President Sadat in 1980 went further making Sharia the source of all legislation (Article 2). Even this was not enough to save him from a hail of bullets, however, and since then increasingly conservative Egyptian courts have had to do back-flips to justify huge swathes of secular law.
Recently, in an unprecedented ruling by Egypt's highest administrative court, the court determined that a group of Coptic Christians who had converted to Islam could have their re-conversion officially recognized. This was proclaimed by the New York Times as something of a triumph to be celebrated: "Egyptian Court Allows Return to Christianity," it trumpeted.
Although a fairly radical step for Egypt, it was not a blossoming of religious freedom. Agreeing with the lower court that Islam does not envision conversion from Islam to "a less complete religion," the court required an asterisk of sorts be placed on the returning Christians' national ID cards. The cards will have added to them the brief phrase: "adopted Islam for a brief period"—marking their bearers as apostates and possibly for death.
In May of last year, Habib al-Adly, Egypt's Minister of Interior, wrote a memo urging the blanket rejection of all re-conversions to Christianity. Al-Adly insisted that Islam is the state religion, meaning that any Muslim man who abandons his faith should be killed. Happily this was not the case for women. A Muslim woman, he wrote, "should only be imprisoned and beaten every three days until she returns to Islam." What is ironic about this is that al-Adly is also charged with protecting the Egyptian state from the purported scourge of the Muslim Brotherhood.
Last year's constitutional amendments reflect the continuing confusion over the role of religion in Egyptian society. Articles 5 and 46 as amended sought to separate religion from politics by banning the formation of religious parties and by guaranteeing the freedom of religion. Both of these moves were rightly applauded in the West. Nothing was done, however, to make them compatible with Article 2—and how could they be? The Muslim Brotherhood argues that not only is a ban on its organization unconstitutional, but that Article 2 in fact mandates its existence and the use of its campaign slogan "Islam is the Solution." Most Egyptians probably agree. The courts, too, have refused to allow Muslims who convert to Christianity to have their ID cards record the fact. Only one Egyptian has been courageous enough to test the courts on the question.
If yesterday, governments in the region, including Egypt's, sought to co-opt the symbols of Islam to legitimize their rule, today the genie they've released is out of their control. The governments have argued for years in Washington that they were the only bulwark against radical Islam. Today they say they really mean it. And yet the main strategy for dealing with political Islam seems to be repressing it with one hand while stimulating it with the other.
When Wilders' film is released, many Muslims (not all) in many countries (not all) will riot; cries will go up far and wide for the West to come to terms with Islam, and the radicals will again try to shift the ground toward them. Predictably, such violence will take place mostly in countries that are not free or only partly free by Freedom House's standards.
When this happens, it should be more than another occasion for the West to apologize for its irresponsible politicians. Western governments, particularly the United States, should challenge Arab "allies" to adopt policies that begin to reverse the long trend. Unless and until these governments become convinced that tolerance is something to be resolutely cultivated—not for the West but for the health of their own societies—it is they who will bear much of the responsibility for the violence unleashed as a result of a (yet unseen) 15-minute film.
Comments are limited to MESH members and invitees.
6 Responses to "Overcoming 'Fitna'"