Nothing like a blizzard to get some end-of-the-year wrap up chores done. Among them is my "fun" Top Ten list for 2003. I have another more useful one in the works. Enjoy.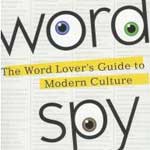 1. Top Words
If you can't use the words "metrosexual," "flash mob," or "flexitarian" in a sentence, then you may be a "leadite." Brush up on the lexicon-d'jour with the Word Spy.
2. Top Topics
What's hot today in cyberbia? Visit Daypop for a daily Top 40 of the most popular news and fads circulating among the bloggerati — that's how I found the Holiday Snowglobe. (Also try Popdex, the website popularity index.)
3. Top Queries
Google's Zeitgeist page gives a Top 10 snapshot of what inquiring minds are searching for month by month along with a few other interesting tech trends. Watch for the boffo 2003 end-of-year summary coming January.
4. Top Viral Marketing Videos
Warning: these little movies may infect you… with brand awareness. My favorites are "Bollocks!" and "Champagne Virals." Be sure to tell me which is your favorite.
5. Top 20 Downloads of the 20th Century
The British Pathe Film Archive has created a complete digital archive of its collection of 75 years worth of film, video and photos available for download and free previewing — it's a virtual way-back machine.
6. Letterman's Top Ten
You're funny. Your friends tell you so. You think you are. Now prove it! Enter The Late Show's Top Ten Contest. If your answer to a weekly Top Ten List is used on air, you'll win a cheesy prize and instant validation.
7. Top Gadget
Here's a gift-giving solution for that person who has everything. For Wall Street junkies, consider the Stock Orb, just one of several futuristic "smart objects" from Ambient Devices.
8. Top Interactive Break
Exercise the other side of your brain with Mr. Picassohead! Based on the beloved Mr. Potato Head toy but with a cubist twist, this tool allows anyone to create instant "Picassos" with point-and-click ease. View my masterpiece and then click on the link to create your own!
9. Top Mind Bender
Escher and the Droste Effect – Find out what M.C. Escher, mathematics and Dutch cocoa have in common. And be sure to view the two animations. I'll say no more, go explore…
10. Top of Mind
How do you gain brand awareness and build trust among your client base? Engage them with information of value that they will read, understand and remember. That's information that works!
See also: Amy's Top Ten Web Diversions for 2004
See also: Amy's Top Ten Web Diversions for 2005