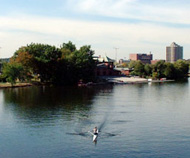 BOSTON — A Boston University grad is raising some hackles with his new book, "The Absolute Worst Places To Live in America," which names Fitchburg, Mass., and Boston's Allston neighborhood as among the worst.
Dave Gilmartin, 30, originally hails from New Jersey, which he said helped qualify him to rate crummy cities, according to the Boston Herald. He said he also lived on both Glenville and Pratt streets in Allston while enrolled as a BU student.
Gilmartin listed "faux Irish pubs, garbage and vomiting in the shrubbery" as some of the Allston neighborhood's vices.
from the Boston Channel
And we always considered those Allston Irish Pubs with the bushes out front to be part of the old Allston-Brighton charm. And let's nor forget the junk-furniture recycling stores, the colorful local characters living out of stolen shopping carts, and the leftover dregs of the day-labor market left over to wallow and dessicate on curbs and streetcorners all day….