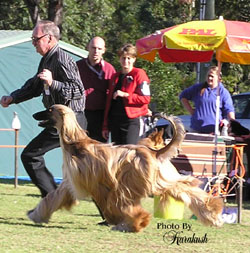 KANDAHAR, Afghanistan (AP) — A suicide bombing at an outdoor dog fighting competition killed 80 people and wounded scores on Sunday, an Afghan governor said. It appeared to be the deadliest terror attack in Afghanistan since the fall of the Taliban in 2001.

Unlike in the U.S., where star Atlanta Falcons quarterback Michael Vick was sentenced to 23 months in federal prison for his role in a dogfighting operation, dog fights are a popular form of entertainment in Afghanistan.
German shepherds, bully kuttas and Afghan mastiffs do not fight until death but rather until one dog pins another or one of the fighters runs away. The dogs have clipped ears and tails and carry the scars of battle.
The events can attract hundreds of spectators who cram into a tight circle around the spectacle. The sport was banned under Taliban rule.

from the AP

Let me get this straight. We lock Michael Vick up in the Federal Penitentiary in Leavenworth for organizing dog fights, and then we send thousand of troops to die in Afghanistan defending the right of our Afgan allies to organize dog fights.
What's wrong with this picture?