Adam Curry may be my new best friend. Meeting Adam on the eve of BloggerCon clarifies for me some of the crazy convergences underway in this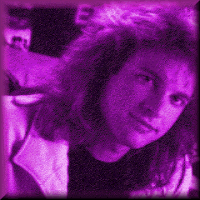 beloved blogosphere, and at Dave Winer's magnetic conference opening tonight.
Adam Curry was born into stardom on MTV in the late 1980s. As the VJ host of the network's "Top 20 Countdown," he interviewed stars like Michael Jackson and Paul McCartney, and became himself an all-around pop icon. Adam Curry today is still 6 feet 5 inches of blond Adonis, but his conversation and his work all crackle with his lifelong interest the hardware of communications.
To simplify the convergence I am seeing: Adam Curry comes now to the summit of blogging from The Netherlands and show business, with a head full of ideas about practical technology to liberate expressive international artists. Dave Winer is a genius programmer and blogging pioneer who wants to use the human voice to focus and spread the blog gospel. I'm a political journalist and talk-radio jockey who wants to use the free, global range of the Internet to extend the magic of good conversation. So here we are at BloggerCon, scratching each other's backs, learning fast and expecting to make something happen. Here's my first encounter with Adam.