September 14th, 2011
In 1961, Newt Minow — then Chairman of the Federal Communications Commission — delivered a landmark speech to the National Association of Broadcasters on "Television and the Public Interest," in which he described television programming as a "vast wasteland" and advocated for public interest programming. Fifty years later Newt Minow — and a slate of distinguished guests — reflect upon the changed landscape of television and dramatic shifts in the broader media ecosystem, and identify lessons learned that may help to offer insight into the next 50 years of media and public discourse.
Guests include Harvard Law School Dean Martha Minow, Ann Marie Lipinski of the Nieman Foundation, Jonathan Alter of Bloomberg View, Yochai Benkler of Harvard Law School, as well as Terry Fisher, Yochai Benkler, John Palfrey, and Jonathan Zittrain of Harvard Law School. Other respondents include acclaimed historian Doris Kearns Goodwin, Susan Crawford of Cardozo School of Law, Perry Hewitt of Harvard University, Ellen Goodman of Rutgers University School of Law – Camden, Virginia Heffernan of the New York Times, Former Chairman of the FCC Reed Hundt, Former Chairman of the FCC Kevin Martin, Nicholas Negroponte of One Laptop per Child, Ethan Zuckerman of C4/Berkman Center.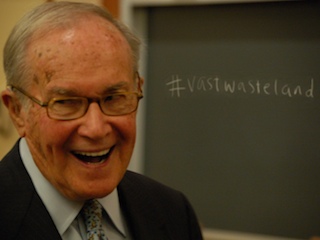 Click Above for Video
…or download the OGG video format!
More info on this event here
Entry Filed under: video