May 24, 2004 at 8:09 am | In
yulelogStories
|
16 Comments
A small detail — a very very small detail indeed — in one of Mike Golby's recent entries nonetheless made me quite angry. The entry's title, What Intrigues Me…, segues into a sentence that constitutes the entry together with interspersed illustrations: "What Intrigues Me… …is The Way the Bayonets… ….shown in this picture… …come to dominate… …the people… …and their 'protectors'. I ask you. Who are we to assume that is we who face the bayonet?"
Nothing wrong with the question, or with the choice of imagery: Goya's "One Can't Look" first, followed by contemporary photographs of soldiers and civilians. This is the Goya, which I also referenced in an entry on May 12:
But why oh why does the sentence fragment "…shown in this picture…" link to Caravaggio's late 16th century depiction of Judith Beheading Holofernes?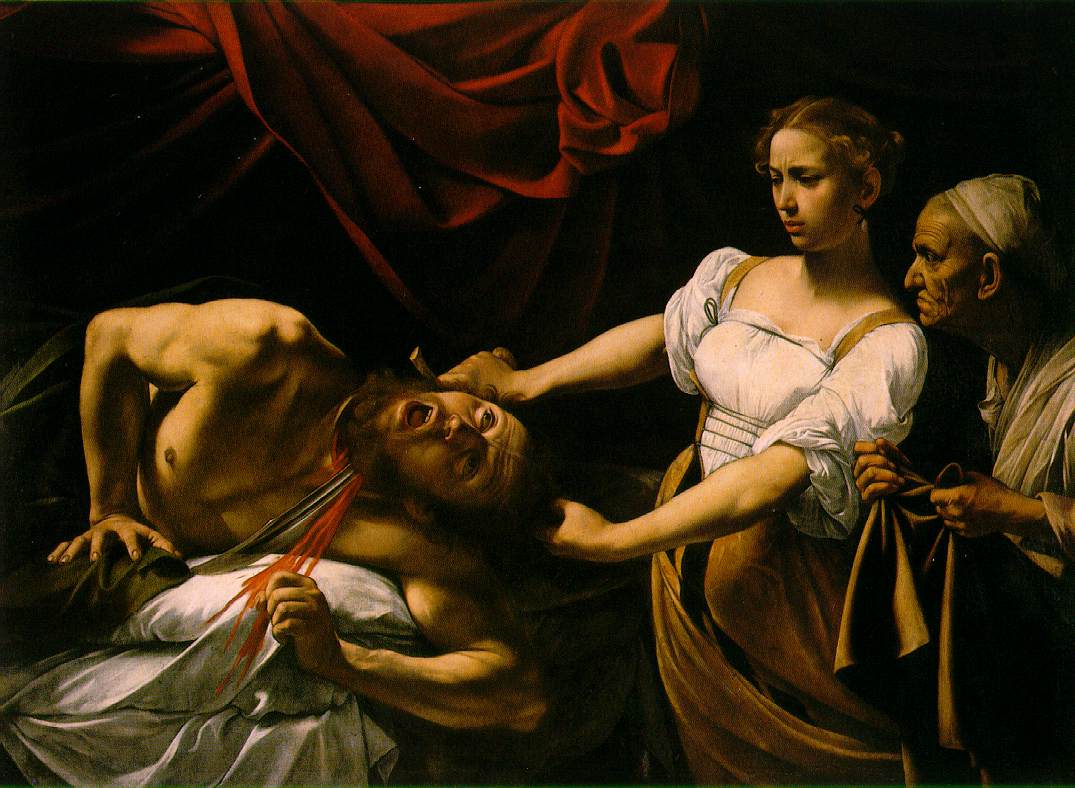 That's the detail that set me off. Am I correct in sensing a comment on the culpability of women in the exercise of torture? My apologies if I'm mistaken, but in my naturally heightened alert of feminist consciousness, I detected a nasty Madonna-Whore dichotomy swipe of unresolved feelings toward the female sex in that particular pointer: coming at the viewer without the context of Caravaggio's other works or of Caravaggio's sexual orientation, I detect in this choice — again, my apologies if I'm wrong — more than a slight hint of male castration anxiety. But Judith was no "castrating bitch" (and in past emails I've vented privately against decontextualised uses of the Lorena Bobbit story). Judith was a heroine who endangered herself to save her people; she happened to use sexual wiles to lull an overly-confident Holofernes, but her action can in no way be compared to Lynndie England's, for example.
And it is Lynndie we're talking about, isn't it?
It seems to me that what's getting left out by the reference to Judith, an oblique out-of-context reference that strikes me as an off-the-cuff judgement of women on the basis of old stereotypes, is class analysis.
Caravaggio's Judith is not exactly fearsome or irrational or castrating: she is an individual whose conflicted consciousness is written — or painted — on her face. Judith's maid is resolutely ghastly, but Judith is extremely troubled, her face expressing pain and revulsion, exactly like David in this version of Caravaggio's David with the Head of Goliath:
In both subjects, we see a complex battle of scruple, duty, and destiny playing out in the characters' faces. If, in the final analysis, David has more complexity than Judith, it's probably due to Caravaggio's own homosexual politics, too. In this version of David (Caravaggio painted at least 3), Caravaggio painted his own self-portrait as the head of Goliath, while one of Caravaggio's typically beautiful and seductive Bacchus-type lads holds the head. This time, however, the boy, if heartbreakingly rueful, is armed and dangerous: Judith couldn't compete with Bacchus-David for Caravaggio's most in-depth devoted scrutiny precisely because she was a woman, not a boy.
But back to Lynndie.
What was that about class analysis?
If you want a fitting comparison in painting for Lynndie England, my suggestion is to look no further than Goya's Maya, both the clothed and the nude versions. First, the Clothed Maja from about 1800:
And the Nude Maja, which Goya painted perhaps sometime later:
Why do I think Goya's Majas have anything to do with Lynndie England or the other salt-of-the-earth "good old girls" caught with their hands dirty? It has nothing to do with any essential nature of women (I don't subscribe to nonsense like that), nor with any dualistic notions of "good girls/ bad girls" (I reject dualisms as social constructions which humans "solve" in order to flatter themselves), but with how class position structures parameters within which you act, and with how genders and classes will be reified by pundits and imagerists (actually, I prefer to think that Goya, far from reifying "majaism," was commenting on it in a very astute and critical way). Some enlightened people of Goya's time wanted to enjoy "majaism" as consumable and fashionable folklore (they dressed up as majas and majos, which has some resonance with the way white middle class people consume hiphop fashion or trailer trash style) and they wanted to believe that with enlightenment, the Maja would benefit from the coming modern age's reforms. Bzzzzt! Wrong, which is what drove Goya practically mad. Just as Lynndie proved to be a very ordinary nasty good ol' girl whose deep, poor roots gave her no protection against sinking into barbarism, the majos turned out to be torturing brutes who gave as good as they got in the vicious bloodbath known as the Peninsular War. Judith? Forget it, she was of a completely different class acting for completely different reasons. Goya's Maja, on the other hand, that is the illusion of natural (class) nobility laid bare.
16 Comments
Sorry, the comment form is closed at this time.
Theme: Pool by Borja Fernandez.
Entries and comments feeds.