April 2, 2010 at 6:04 pm | In
just_so
,
local_not_global
,
vancouver_island
,
victoria
|
5 Comments
The theme of the day is choice, or lack of it. Choice(s) in traveling, choice(s) in getting from point A to point B. Turns out, our choices are getting more and more curtailed, and when bad weather strikes, they're practically wiped out.
Let's look at money-related choices… Now that BC Ferries has jacked up its fares once again, it's becoming very dear to get on and off "the island" (Vancouver Island, that is).
The fare between the cities of Victoria (on "the island") and Vancouver (on "the mainland") for an adult walk-on or vehicle passenger ticket is now $14. And a regular passenger vehicle (without driver) is $46.75, which makes a car and driver ticket come to $60.75.
That's one-way, of course. Return costs $121.50. And if you've got a couple of passengers, your fare just jumped to about $180.
Yikes – and this, for what was supposed to be our "highway" connection to the mainland: the ferry system seems practically designed for cars and drivers, but at those prices, it's hardly affordable. The trip takes a long time, too, not because the crossing is long (only 90 minutes), but because BC Ferries wants you there long before the ferry departs, even if you have a reservation (which costs more money, incidentally).
The "choices" offered by BC Ferries are not satisfactory. The choices, such as they are, consist of being able to choose between a buffet or a cafeteria once you're on board, and soon you'll be able to enjoy a massage, pedicure, or manicure during the 90-minute crossing.
But that's not the sort of consumer choice I had in mind. I'm looking for more choices in rates and in crossing options.
Right now, everything centers on very large car ferries. Not much choice for getting to the ferry terminals efficiently if you're not driving, either. One private bus service has a monopoly, and the public bus service takes forever.
I didn't really intend to bitch about BC Ferries, but it's top of mind right now since that's what the daughter ended up taking in the wake of flight cancellations. Since she only has a short weekend to visit us at home, we opted to get her over here on the downtown-harbor-to-downtown-harbor float plane service (considerably more expensive than the ferry, but also only 35 minutes travel time). But during the night, a significant windstorm moved into our area, and poof!, that grounded the float planes.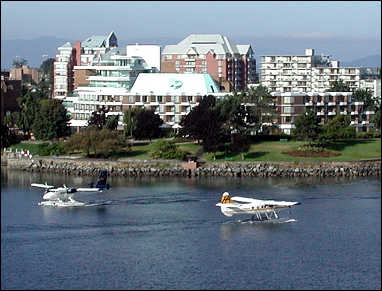 It also did a number on the ferries. Everything got delayed, and her trip from Vancouver to Victoria ended up taking seven hours, all told.
As a student, she does get a much better rate on the ferry-and-bus combination she opted for, so the money isn't the point.
Rather, it's the hassle of getting on and off "the rock" (that's the other name we have for this place), and it's the absence of choice(s).
The choice(s) that do exist are getting dearer all the time: for convenient flights, it's $149 per person for a one-way float plane ticket; some deals are possible if taking the fixed-wing aircraft from airport to airport, but generally, it's a pricey proposition to fly, especially for a family. And as I wrote, the ferry rates keep going up, with more trivial choice(s) within the existing ferry system (buffet v. cafeteria; manicure or pedicure, etc.), but no choice(s) at all over the actual ferry mode – it's all the same type and style of ferries. For what we pay, there should be more options.
As for the weather: well, there's no choice about that. Storms are like atmospheric earthquakes that last for hours, and this one was at least an 8.0. But at least the ground held firm, even if the skies shook.
5 Comments
Sorry, the comment form is closed at this time.
Theme: Pool by Borja Fernandez.
Entries and comments feeds.