August 21, 2010 at 11:23 pm | In
just_so
,
victoria
|
Comments Off

on Fuzzy animals and the "red in tooth and claw" set
It would be funny, if it didn't have the potential for major cock-ups. Here in what we call Greater Victoria, we've been inundated by deer and (university) rabbits. And it seems it's only a matter of time before natural predators move in.
…Or maybe they already have?
Joggers beware: Cougar spotted at Elk Lake (August 21, 2010)
Cougar spotted in Saanich Sunday morning (August 15, 2010)
Cougar spotted near Walbran (July 30, 2010)
Phantom cougars on the prowl (July 29, 2010)
Meanwhile, near downtown, a population of people who are homeless and often drug-addicted and / or mentally ill creates problems of  quite another caliber.
And the deer, rabbits, cougars, crackheads, and stoners – as well as working poor – are all within a radius of one or two miles of one another.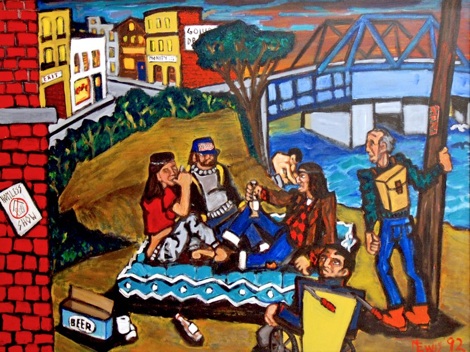 If the cougar is, naturally enough, moving into the city to prey on deer and rabbit populations, who are the hunters preying on the human numbers making themselves so vulnerably available on our streets? Does anyone really think it's all about middle-class values and "choice"? I live 3 blocks from downtown and have "encouraged" Government House deer to get out of my front garden, just as I've had people who are homeless sleep (and make a fire pit) in my garage (when it was still open to the street).
"Laissez-faire" sometimes just doesn't cut it.
No Comments yet
Sorry, the comment form is closed at this time.
Theme: Pool by Borja Fernandez.
Entries and comments feeds.